A group of Perth agents are bringing a new meaning to the term 'industry cooperation', establishing a formal monthly roundtable to share tips for better business.
Director of SOCO Realty Ashleigh Goodchild, one of four agents who are meeting monthly to share ideas, believes that while competition may be healthy, collaboration ultimately makes us more successful.
"A few years ago, the four of us started catching up each month to share how we do things in each of our businesses", Ashleigh said.
The collaborative meetings, also attended by Donna Gordin, Jamie Horner and Leah Johnson, were aimed at making its participants incrementally better at what they do, and now cover anything from reducing business costs, adding client value or building internal team culture.
"One of the best things about sharing our knowledge is that we all have an area of our work that we specialise in – whether its marketing and social media, checklists and office procedures, staff culture or legislation – we draw from each others' strengths to better our own offices and teams", Ashleigh said.
The working group of property management professionals have also travelled interstate to see other offices at work, and learn something new every time.
"Everyone you ever meet will know something you don't and I cannot stress enough the importance of being open and transparent within the industry and with colleagues", Ashleigh said.
While Ashleigh understands some property managers would instinctively find this level of cooperation to be risky, she tries to remind her peers that nobody can ever replicate what is essentially 'you' – and the benefits far outweigh the risks.
"Your ideas are not going to be presented to clients with your energy and your personality so you never have to worry about sharing", Ashleigh said, adding, "collaboration is the new competition".
Keen to hear how secret sharing works? Us too!
We have invited Ashleigh, Donna, Jamie and Leah to our WCPT Above and Beyond Property Management Conference.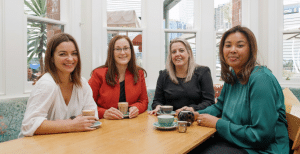 Together, the ladies will get real about how collaboration within a fiercely competitive industry can really work.
Comments
comments